After racing a near bone-stock Losi 5ive for a few months in various locations around Southern California, I quickly realized the capability of the 5ive. Even with a wicked O'Neill Brother Racing 30.5 Full Mod Reed engine pushing the 30+ lbs beast across the track, there's plenty of room for changing the handling characteristics of Losi. And that's where Hostile Racing Products comes in.
I had a successful series race at CVRC a few months back. Raced both HPI Baja Expert Class Buggy and Expert Class 4wd with the Losi. I was a force to be reckoned with while driving the Baja but when it came to the Losi, I still have plenty to learn about set-up. So I took full advantage of my inability to successfully drive the 5ive by jumping more than I have, corners taken harder, pinned WOT longer than should have been. All in the name to push these Hostile Racing Products 5ive shock towers to their limits. And they took everything I could throw at them.
Flipping, rolling, landing on the roof, and making shock angle adjustments that pushed the physical limits of both shocks and towers. Needless to say, HRP towers took it all and are still ready for more! Made from American 6061 1/4" thick billet aluminum, these will last longer than your 5ive and may even be around to pass on to your children.
I've taken some pictures but as you can see, there's no modifications needed to anything even though your are gaining a few mm thickness over stock but the bashability and adjustability you are gaining out weigh the minimally added girth. In this racer's eyes, a needed upgrade over the stock towers.
With both HRP towers installed, you are only adding 3oz of weight
which is nearly nothing in comparison to the 30lbs beast you're installing them on.
Here's some dirty pictures taken right after a 20 b-main and a 45 min A-main:
Rear tower;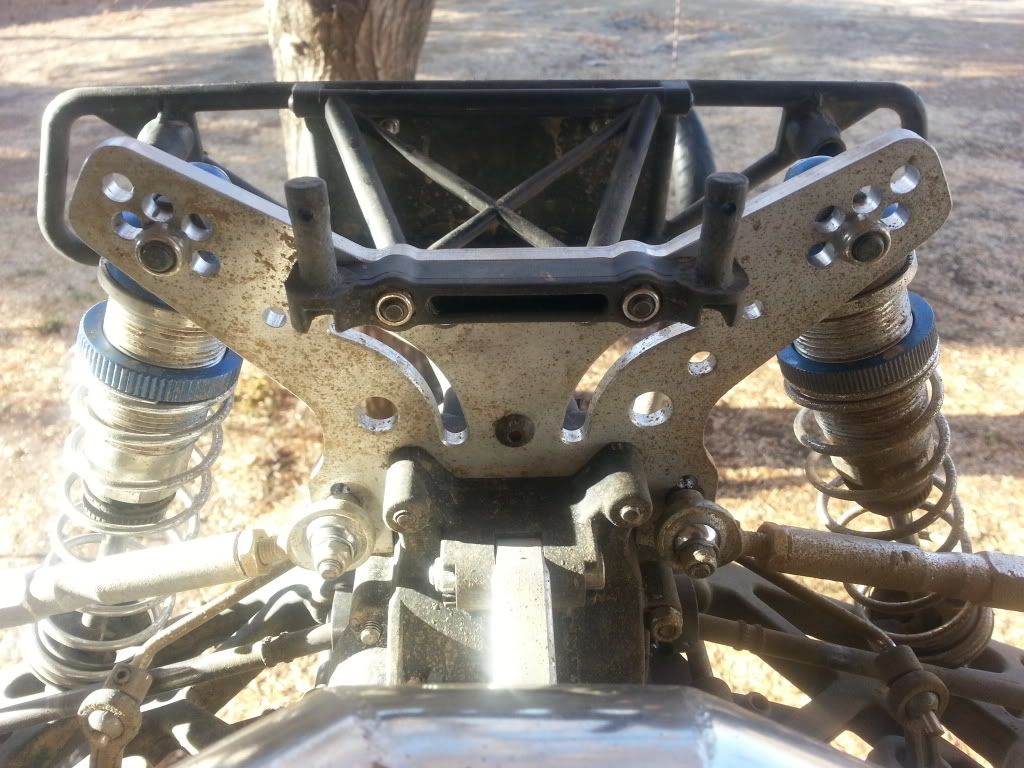 Front tower;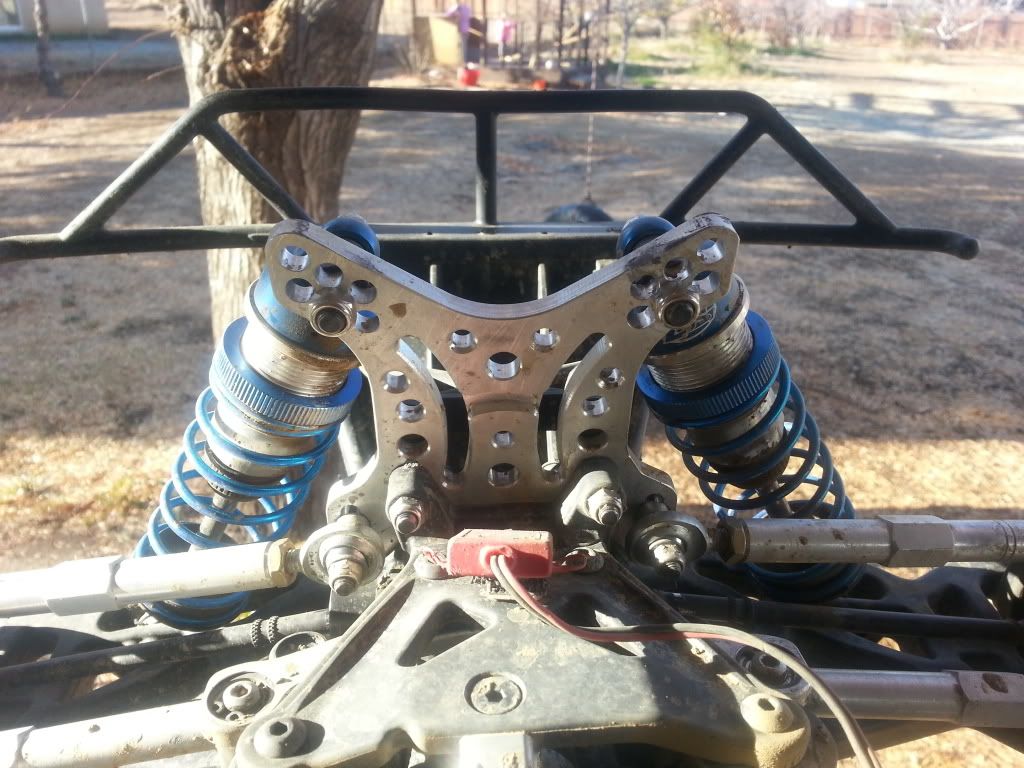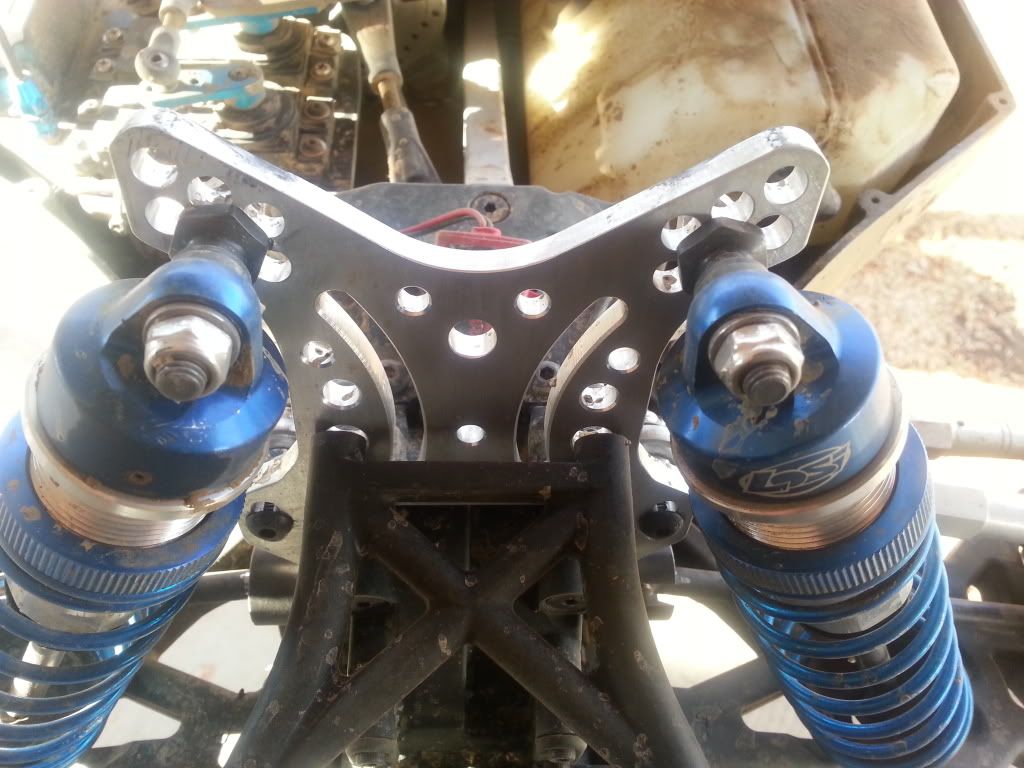 Bottom line - If you're a basher, you can't go wrong with these new shock towers from Hostile Racing Products. If you're a racer and looking for that edge on the competition, the added adjustability may be exactly what you may need. The added shock and camber options are needed in this class of R/C Racing. Hostile Racing Products have brought us a versatile and functional new product. Throw them in your virtual shopping cart next time you're cruising through your favorite on-line 1/5 shopping site. Please stop by if you see me at the track and I'll be more than happy to show you how they are still holding up.
Almost forgot to mention the price!!! Depending on where you get your stock parts from, these are cheaper than the stock towers...... $30 MSRP for the front and $35 MSRP for the rear.....
Have a good bash and hope to see you at the track.
Here's a link to Hostile Racing Products page for these shock towers:
Rear:
http://www.hostileracingproducts.com...p?idProduct=77
Front:
http://www.hostileracingproducts.com...p?idProduct=76
Balls...........................Out